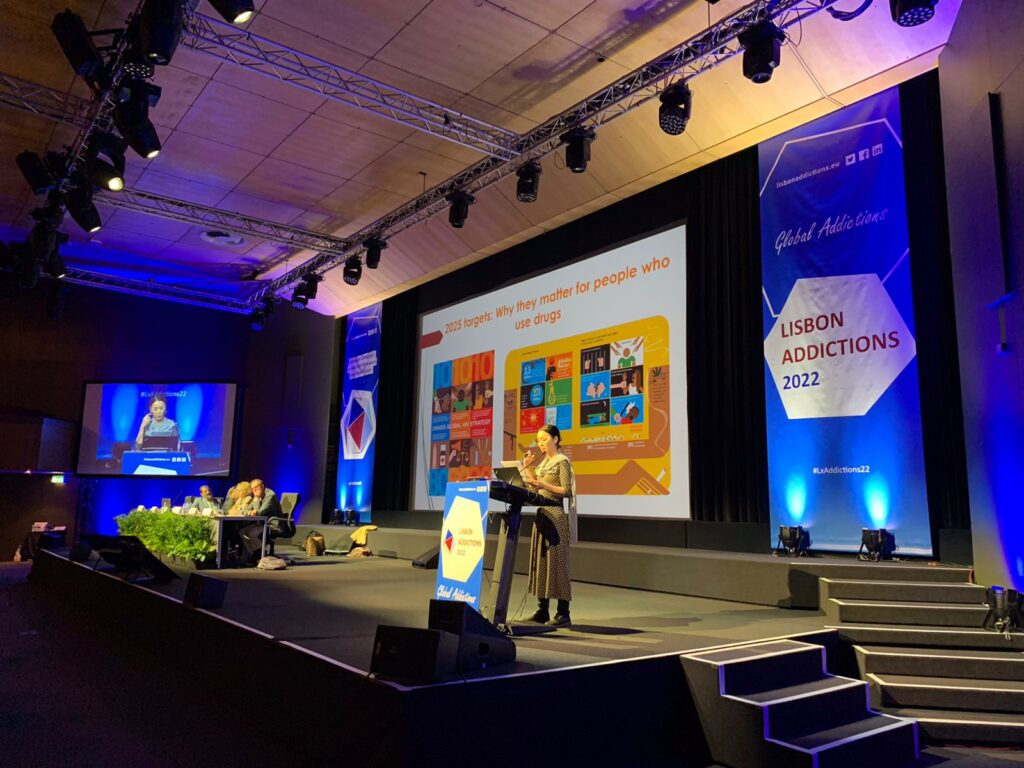 At the Lisbon Addictions 2022 Conference Judy Chang was part of a discussion about the creation of a comprehensive gender strategy in drug policy in Europe. The discussion on gender perspective in drug policy included a policy maker, with Judy providing a user perspective, a practitioner, and a scientist.  
We need to move towards an inclusive definition of women that encompasses the diversity within women.
Shift the dialogue from pathalogising reasons women use drugs to include an active choice.
Replace gatekeepers with stakeholders who work to create space for women who use drugs in the full policy making cycle.  
Draw lessons from feminism' fight for body autonomy and human rights movement as part of advocacy for women who use drugs.
Improve funding for networks and initiatives that are led by women, which provide comprehensive services to women.
The future for gender equity in drug policies lies in gender transformative approaches. Moreover, increased effort must go into implementing corrective measures to eliminate the negative effects of the intersection between drug policy gender control and patriarchal norms and attitudes. Furthermore, efforts towards gender mainstreaming should run parrel to these corrective measures. The inclusion of cisgender women, transwomen and gender diverse people who use drugs makes the proposition for gender equity more compelling.
The dominant narrative about the reasons women use drugs pathalogises them. In addition, this provides justification for their exclusion in drug policy decisions. This needs to shift to include women who choose to use drugs as part of their body autonomy, and for pleasure. Policy making should seek out and include their input at the design phase and responses to the impact of implementation. More qualitative research on the lived experiences of women who use drugs is essential for their feedback on the impact of policies on their lives. For the feedback to happen it requires the removal of gatekeepers, to be replaced by stakeholders, who work to create spaces for the voices of women who use drugs in the full policy making cycle.  
Universal human rights pave the way for women to exercise their rights regardless of our sex and gender, our sexuality, our colour, whether we live in poverty and whether we use substances. This should remove the stigma and discrimination which undermine the rights of women to access health services, to vote, to assemble and freely associate. Improved funding to ensure women who use drugs can fully exercise their human rights is crucial. More money must be put into networks run by and for women who use drugs. Gender neutral initiatives can cost women their lives. There should be increased focus on policies and programmes for women who use drugs, designing strategies that reflect their lived realities and expand rather than limit opportunities.