We are organising a webinar on April 27th at 15.00-16.30 CET to share lessons learnt from the Window 1 and 2 of the Global Fund's Grant Cycle 7 (2023-2025 allocation period). We will also discuss collectively how the community can have an impact on the national level and meaningfully influence their outcomes.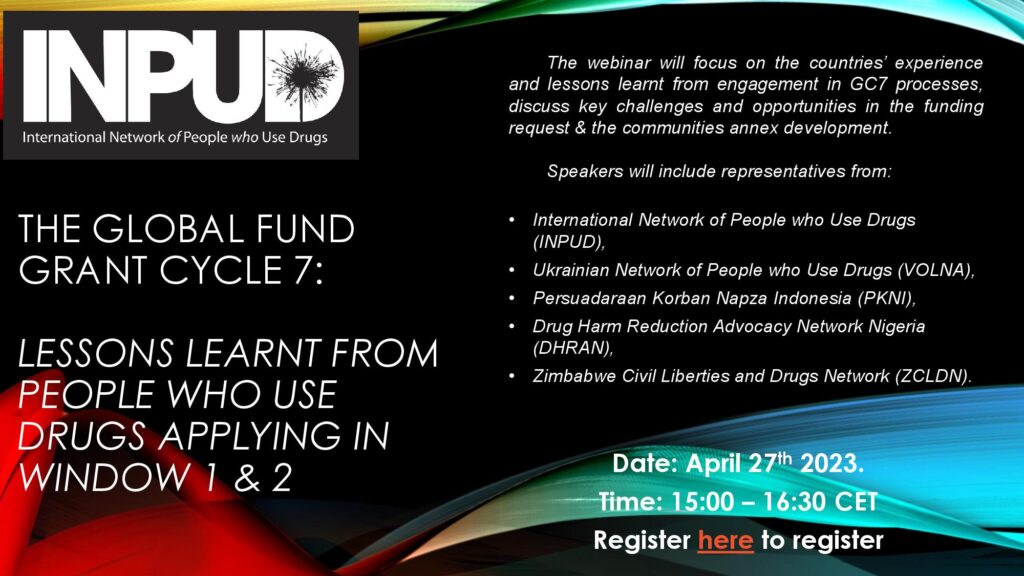 Throughout the past six months the International Network of People who Use Drugs (INPUD) has been providing technical assistance to a number of countries to support and work with the communities of people who use drugs to develop advocacy roadmaps for the Grant Cycle 7 processes, organise community consultations and develop key priorities for the country funding requests and the funding priorities of civil society and communities annex.
To reflect on the successes and barriers of this process, INPUD will organise an informal discussion with the speakers from the community in Ukraine, Nigeria, Indonesia and Zimbabwe, and share knowledge with the countries applying in Window 3 and onwards.
The webinar will take place over one and a half hour, including Q&A with the audience and speakers from INPUD, Ukrainian Network of People who Use Drugs (VOLNA), Persaudaraan Korban Napza Indonesia (PKNI), Nigeria Drug Harm Reduction Advocacy Network (DHRAN), and Zimbabwe Civil Liberties and Drug Network (ZCLDN).
Translation in French, Spanish and Russian will be provided.
Registration
Please register on this link