The International AIDS Conference 2022 (AIDS2022) took place in Montreal, Canada between 29th July and 2nd August. Despite discrimination in the visa application process which rendered many community members from the Global South unable to attend the conference, INPUD nevertheless had a strong presence at the conference. This page contains content from INPUD members and the community of people who use drugs from AIDS2022.
Protests During Opening Session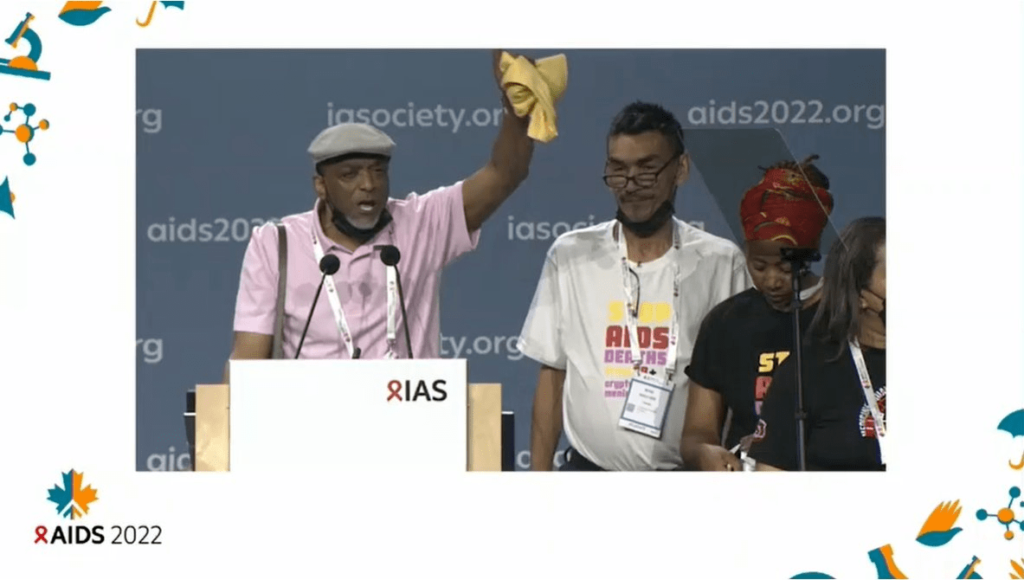 During the opening session of the conference, community protestors took to the stage. The protestors, chanting "let us take the stage, people are dying", sought answers to why community should trust elected officials when they could not even take the time to be at the conference. This was in reference to canceled remarks by MP Harjit Sajjan. They also demanded for indigenous communities living with HIV to not be left behind and criminalised in the Canadian response. The protest continued with calls to end international AIDS conferences in countries which criminalise people living with HIV ("No more AIDS conferences in racist countries"). Particularly countries in the global north, where racial discrimination in the visa application process has denied entry to these conference for many in the global south.
Accelerating the implementation of the Global AIDS Strategy through a Community-led Response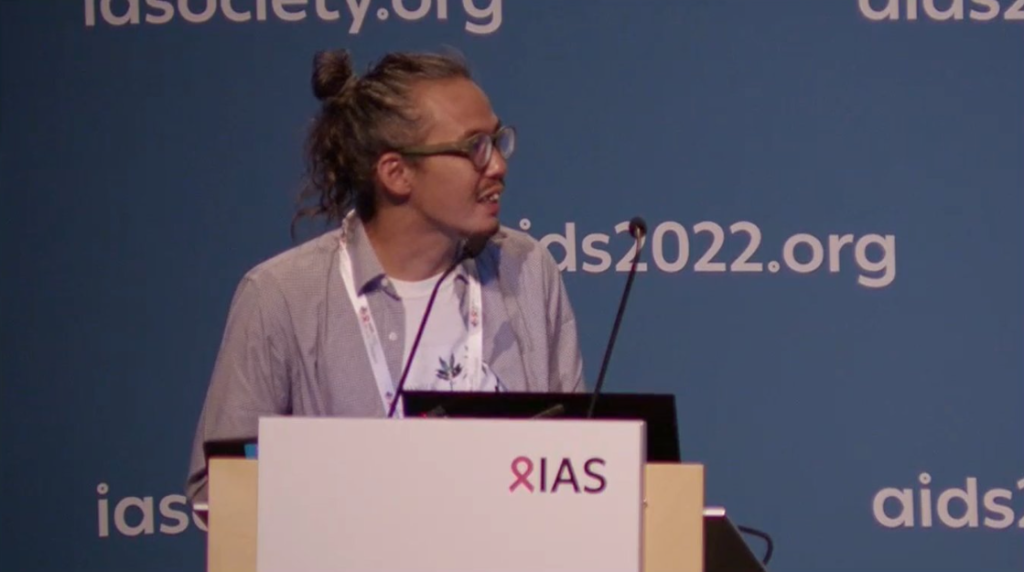 One of the first AIDS2022 sessions promoted community-led responses in the global AIDS response. So of course it was disappointing to see a mostly empty room, even despite the early start. Aditia Taslim spoke passionately about the need to do more than just talk about community-led responses; we need to act on the 10-10-10 and 80-60-30 targets community advocates fought tirelessly to include. Despite these commitments, communities continues to see funding shrink. Aditia called on the Global Fund and PEPFAR to start using the definitions on community-led responses adopted by UNAIDS and advocated for by Key Populations.
Launching New WHO Guidelines for Key Populations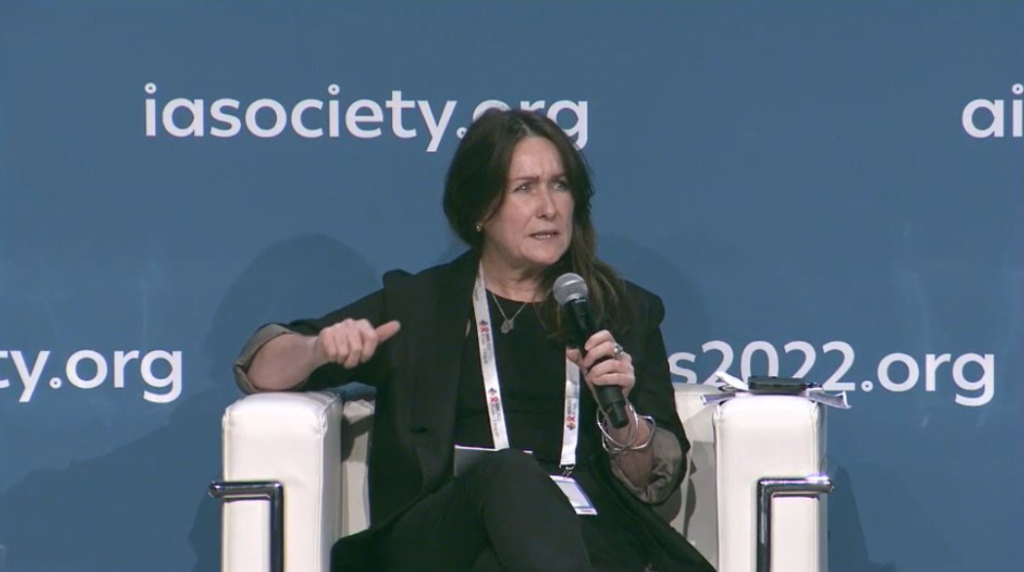 On the first day of the conference, Friday 29th July, The WHO launched their new consolidated guidelines on HIV, hepatitis and STIs prevention, diagnosis and care for key populations. Annie Madden, who was the principal investigator of INPUD research contributing to the guidelines, joined other representatives of key populations to discuss the consultation process during a conference panel. These new guidelines mark the first time community-led consultations on values and preferences were conducted across all key populations. Additionally, Angela McBride of SANPUD spoke about findings from the research at a presentation on Saturday at the Love Alliance exhibition booth.
Integration of HIV and Viral Hepatitis Programmes and Service Delivery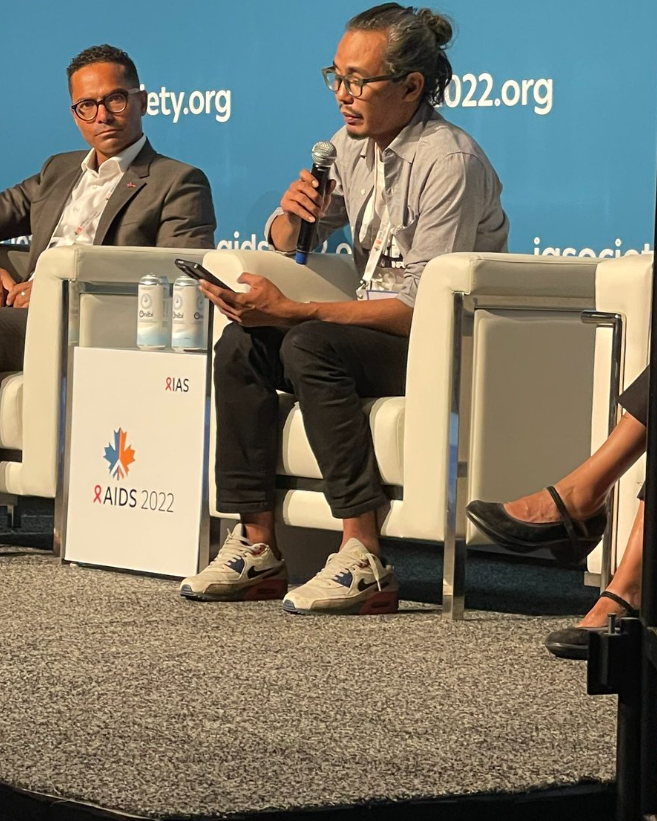 During two afternoon panels on Friday, Aditia Taslim again delivered powerful remarks regarding the need for community involvement in the integration of HIV and viral hepatitis programmes and services. Aditia emphasised that while integration can be great, it can also be dangerous for people who use drugs due to ongoing stigma, discrimination and criminalisation against our community. In countries which deliberately exclude people who use drugs from HIV service packages, integration could mean less access and not more.

Aditia further called on meaningful involvement of people who use drugs at all levels of service design and delivery. He called on donors to redefine what it means to work with community: "Listen to us, don't just invite us to the table. Punitive laws kill people who use drugs faster than HIV. We can tell you what works and what doesn't work for our community. Invest in peer-led, drug user-led services and advocacy."
"Not a Criminal" Campaign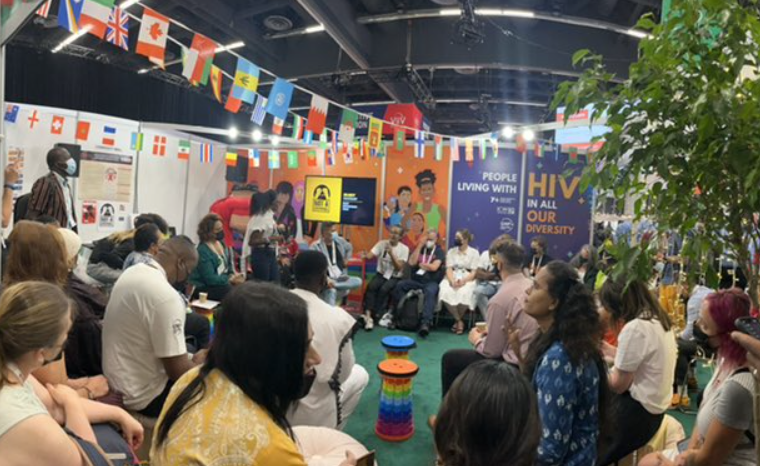 On Saturday July 30th, INPUD joined GNP+ and other key population networks at the Global Village in launching the "Not a Criminal" campaign. The goals of the campaign are to mobilise community action to hold governments and decision-makers accountable for their global political commitments. This includes the 10-10-10 social enabler targets in the Global AIDS Strategy, which calls on countries to remove and repeal laws which criminalise key populations. These laws undermine human rights and are in opposition to evidence which shows punitive laws fuels stigma, discrimination, violence and ultimately impedes access to prevention, testing and treatment services.

During the campaign launch Veronica Russo of LANPUD gave a powerful call to action to end the criminalisation of people who use drugs. Aditia Taslim also spoke on behalf of INPUD, stating emphatically that "We are not just fighting for our rights, we are fighting for our lives. But we're not going anywhere."
Pandemic Preparedness & Responses – Voices of People who Use Drugs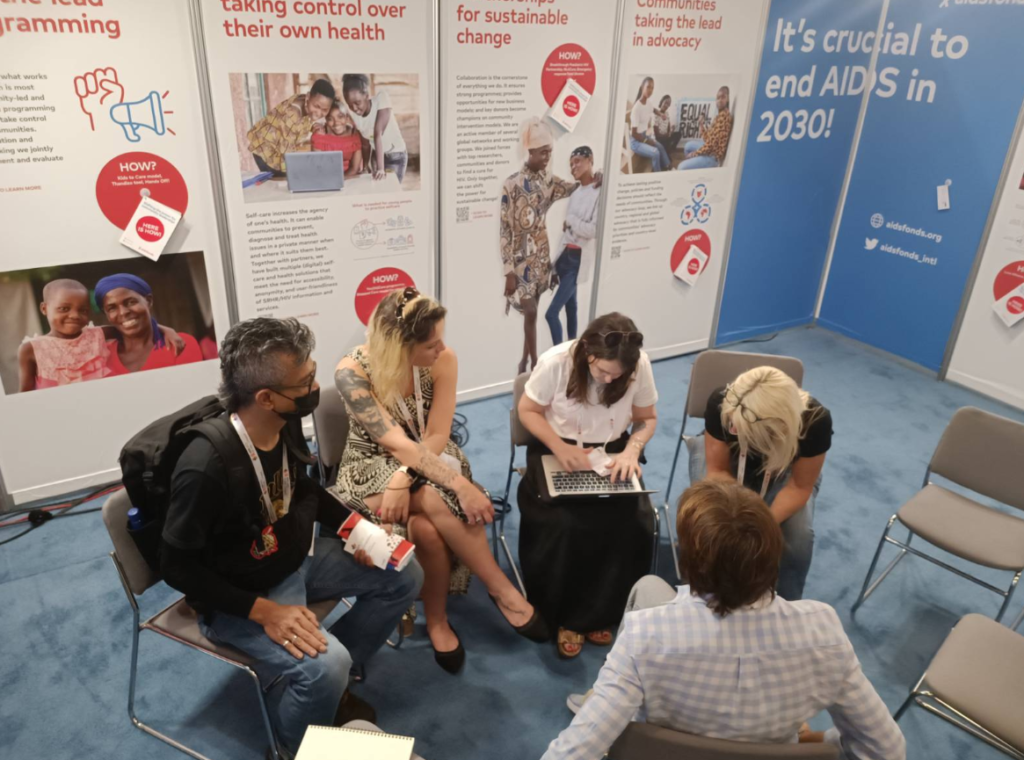 Saturday of the conference started with Annie Madden leading an INPUD meeting in the Global Village regarding an upcoming research project on pandemic preparedness and responses. As the WHO considers a new "pandemic treaty" in the wake of COVID-19, it is imperative for people who use drugs to strategise. To this end Annie will be leading a research project which will capture how people who use drugs feel about a pandemic treaty and, based on lessons from COVID-19, what we think such a treaty needs to include in order for our community to not be left behind in future global health crises.
Launch of UNODC and WHO Implementation Tool for OAY in low and middle income countries
During a side event on Sunday morning, UNODC HIV and WHO presented a new implementation tool for opioid agonist therapy (OAT) for people who use drugs in low and middle income countries. Community speakers during the event were Judy Chang for INPUD and Rita Gatonye for WRADA Kenya, who both spoke to the critical importance of OAT access as a key component of the global AIDS response.
Communities Leading the Way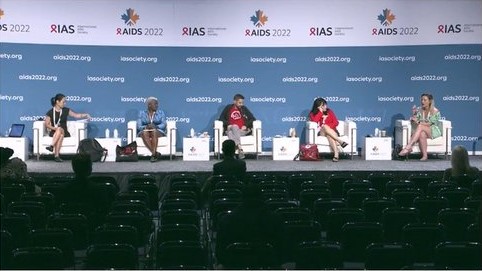 This satellite session on Sunday 31st July was one of the most powerful community-led sessions of the conference. INPUD, SANPUD and LANPUD joined NSWP, Mpact, Kenya Sex Workers Alliance and Asia Pacific Network of Sex Workers to articulate a vision of a community-led and community-accountable HIV response. NSWP Executive Director Ruth Morgan Thomas kicked things off with a reminder that key populations are not simply patients or targets of prevention campaigns – we must be in the lead. This was followed up by Phelister Abdalla of the Kenya Sex Workers Alliance speaking to why lived experience and global solidarity has allowed the sex workers movements to grow and confront criminalisation, stigma and discrimination. Jules Kim of the Asia Pacific Network of Sex Workers then presented on a training they are developing to give young community leaders opportunities to become new leaders in the sex workers movement.

From the community of people who use drugs, Angela McBride of SANPUD discussed how intersectionality between key populations movements in South Africa has made it possible for these movements to grow and provide more necessary interventions to communities. Angela used this to emphasise why community needs to be sharing knowledge and creating space to address HIV. Jessica Morales of LANPUD then joined via video link to add that self stigma along with criminalisation needs to be addressed, highlighting a LANPUD study which seeks to better track stigma and discrimination among people who use drugs in Latin America.
2025 Targets: Powerful Motivators or will we Miss the Mark?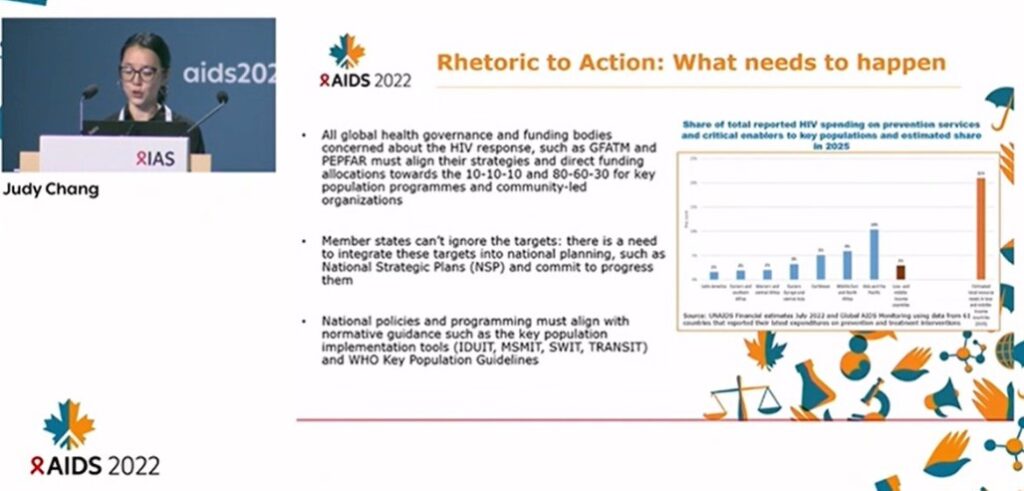 On Monday 1st August, INPUD Executive Director, Judy Chang, presented on a symposium panel regarding the 2025 global AIDS targets and how they are a better tool for addressing HIV among key populations than the 2020 targets. HIV and COVID-19 show prove that epidemics are driven through inequalities, which is why the 10-10-10 and 80-60-30 targets seek to address decriminalisation as well ass challenge stigma, discrimination and gender inequality. At a time where key populations are seeing funding decreases and increases in repressive laws, these targets can be powerful advocacy tools for upholding human rights and keeping governments accountable. But they must be viewed as more than words on paper. Judy emphasised that in recent INPUD led workshops in South Africa, Indonesia and Nigeria there was little knowledge of the 2025 targets, either among the community or government. In order for this rhetoric to be turned into action, funding bodies such as the Global Fund or PEPFAR must align their strategies with the 2025 targets and Member States who agreed to these targets must integrate them into national policies, utilising the WHO Key Population guidelines as a starting point.
Launch of the UNODC 2022 World Drug Report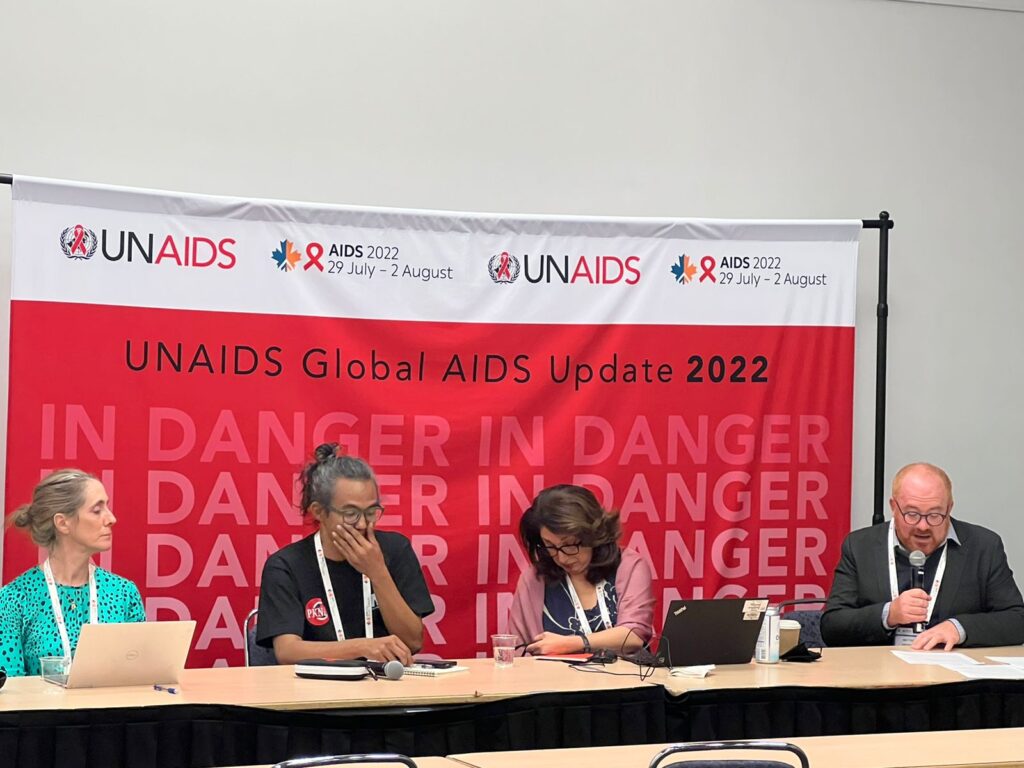 Aditia Taslim once again took the stage Sunday on behalf of INPUD at a session launching the 2022 World Drug Report, organised by the UNODC HIV/AIDS section. Aditia began by noting every section of the report begins with an unfinished sentence. It currently says, "Drugs can kill" but should be: "Drugs can kill if prohibition of drugs remains, if violence continues, if people are denied of healthcare because of they are using drugs, and the list of "ifs" goes on. It has been so many years where we are fighting to get rid of drugs. How many more years do we need to get people to finally get it?" Aditia showed the audience a naloxone kit and said: "this is a lifesaving kit, but currently not available in many countries, and when they are, they remain at hospitals rather than at the hands of communities who are likely to witness overdose." The UNODC report unfortunately does not have a clear link with the Global AIDS Strategy and the Political Commitment on HIV and AIDS, despite the 10-10-10 targets offering opportunities to put decriminalisation on the table instead of just harm reduction.
Drug use and HIV: A Matter of World Health
Rounding off the conference, Shaun Shelly of TB/HIV Care Association and SANPUD spoke on a closing plenary about how stigma and discrimination threaten the health and rights of people who use drugs, and why these must be addressed in the global AIDS response.